Daring Bakers go Vegan!
Hi from the magic of auto-posting!  This month's Daring Baker's challenge reveal day is September 27th, but I'm going to be out-of-town on that day, so I'm writing this on September 15th and crossing my fingers that the auto-post feature works!  If you're reading this on the 27th, I guess it has.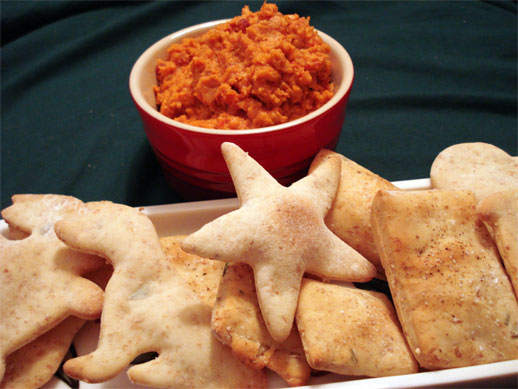 This month the Daring Bakers decided to go Vegan and/or Gluten-Free.  There are a number of members who are vegan or have to follow a gluten-free diet, who usually have to figure out a way to substitute 5 eggs or 4 cups of bread flour and yet come out with the same product on the other side.  Since this month's challenge was hosted by two of those "Alternative" Daring Bakers (Natalie from Gluten A Go Go, and Shel of Musings From the Fishbowl), it seemed only fitting that our recipe be vegan and/or gluten-free.  So what did they choose?  Crackers!  Lavash crackers, to be precise.
In order to allow for plenty of creativity, they allowed us to choose whatever shapes of crackers we wanted and the toppings and flavours we used.  They also asked us to make some sort of dip or spread to serve with the crackers, with the only limitation that it be both vegan and gluten-free.
For my part, I made crackers with fresh rosemary.  I cut them into silly shapes with my cookie cutters; as you can see from the photos, I made some crabs, dogs, moose, stars and hearts.  I also made some plain rectangles to use up the second half of the dough.  Some of the crackers were topped with fresh cracked pepper and kosher salt, while the rest were just plain.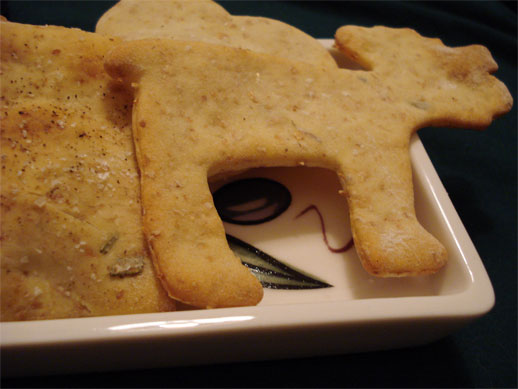 The crackers are really delicious and I'd happily made the recipe again!  They were quick to whip up and easy to personalize.  My only complaint is that I had a really hard time getting the dough thin enough; most of mine came out a bit more bready and less crunchy than I would like from a cracker.  A tip I read on the Daring Bakers forum is to run the dough through a pasta roller before cutting your shapes.  I think if I had a pasta roller I'd do that for future batches.
The dip I made to go with them was a sundried tomato hummus, which I'll post a recipe for below.
For more takes on Lavash, check out the Daring Bakers' Blogroll!
Recipe for Lavash Crackers from:  The Bread Baker's Apprentice: Mastering The Art of Extraordinary Bread, by Peter Reinhart. Ten Speed Press, Berkeley, CA.  Copyright 2001.

Here's a simple formula for making snappy Armenian-style crackers, perfect for breadbaskets, company and kids…It is similar to the many other Middle Eastern and Northern African flatbreads known by different names, such as mankoush or mannaeesh (Lebanese), barbari (Iranian), khoubiz or khobz (Arabian), aiysh (Egyptian), kesret and mella (Tunisian), pide or pita (Turkish), and pideh (Armenian).  The main difference between these breads is either how thick or thin the dough is rolled out, or the type of oven in which they are baked (or on which they are baked, as many of these breads are cooked on stones or red-hot pans with a convex surface)…
The key to a crisp lavash…is to roll out the dough paper-thin.  The sheet can be cut into crackers in advance or snapped into shards after baking.  The shards make a nice presentation when arranged in baskets.
Makes 1 sheet pan of crackers
* 1 1/2 cups (6.75 oz) unbleached bread flour (or whole wheat flour)
* 1/2 tsp (.13 oz) salt
* 1/2 tsp (.055 oz) instant yeast
* 1 Tb (.75 oz) agave syrup or sugar
* 1 Tb (.5 oz) vegetable oil
* 1/3 to 1/2 cup + 2 Tb (3 to 4 oz) water, at room temperature
* Poppy seeds, sesame seeds, paprika, cumin seeds, caraway seeds, or kosher salt for toppings.
1.  In a mixing bowl, stir together the flour, salt yeast, agave, oil, and just enough water to bring everything together into a ball.  You may not need the full 1/2 cup + 2 Tb of water, but be prepared to use it all if needed.
2. Sprinkle some flour on the counter and transfer the dough to the counter.  Knead for about 10 minutes, or until the ingredients are evenly distributed.  The dough should pass the windowpane test and register 77 degrees to 81 degrees Fahrenheit. The dough should be firmer than French bread dough, but not quite as firm as bagel dough (what I call medium-firm dough), satiny to the touch, not tacky, and supple enough to stretch when pulled.  Lightly oil a bowl and transfer the dough to the bowl, rolling it around to coat it with oil.  Cover the bowl with plastic wrap.
3. Ferment at room temperature for 90 minutes, or until the dough doubles in size. (You can also retard the dough overnight in the refrigerator immediately after kneading or mixing).
4.  Mist the counter lightly with spray oil and transfer the dough to the counter.  Press the dough into a square with your hand and dust the top of the dough lightly with flour.  Roll it out with a rolling pin into a paper thin sheet about 15 inches by 12 inches.  You may have to stop from time to time so that the gluten can relax.  At these times, lift the dough from the counter and wave it a little, and then lay it back down.  Cover it with a towel or plastic wrap while it relaxes.  When it is the desired thinness, let the dough relax for 5 minutes.  Line a sheet pan with baking parchment.  Carefully lift the sheet of dough and lay it on the parchment.  If it overlaps the edge of the pan, snip off the excess with scissors.
5. Preheat the oven to 350 degrees Fahrenheit with the oven rack on the middle shelf.  Mist the top of the dough with water and sprinkle a covering of seeds or spices on the dough (such as alternating rows of poppy seeds, sesame seeds, paprika, cumin seeds, caraway seeds, kosher or pretzel salt, etc.)  Be careful with spices and salt – a little goes a long way. If you want to precut the cracker, use a pizza cutter (rolling blade) and cut diamonds or rectangles in the dough.  You do not need to separate the pieces, as they will snap apart after baking.  If you want to make shards, bake the sheet of dough without cutting it first. If you want to use cookie cutters, do it just as you would with cookie dough.
5.  Bake for 15 to 20 minutes, or until the crackers begin to brown evenly across the top (the time will depend on how thinly and evenly you rolled the dough).
6.  When the crackers are baked, remove the pan from the oven and let them cool in the pan for about 10 minutes.  You can then snap them apart (if needed) or snap off shards and serve.
Hummus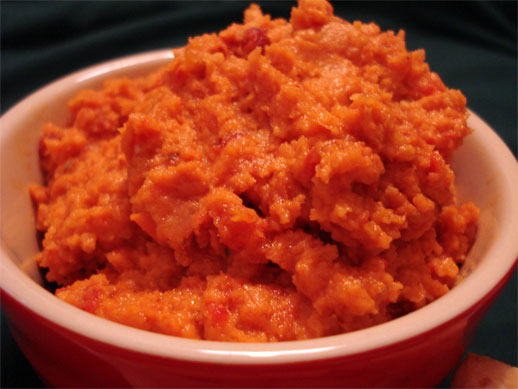 I sort of just threw this together without strictly measuring things, so consider these measurements approximate.
1 cup garbanzo beans
1 tablespoon tahini
5 oil-packed sun-dried tomatoes, chopped
2 tablespoons oil (from the tomatoes, or use olive oil)
1 clove garlic, chopped
salt and pepper to taste
Combine all ingredients in a blender. Blend until smooth. If needed, add a little water to thin out the consistency. Makes about 1.5 cups.