Sugar High Friday Roundup – Tasty Locavore Treats!
This month I was lucky enough to host Sugar High Friday, the international sweet tooth extravaganza that takes place on the last Friday of every month. This month's theme was Tasty Locavore Treats – making awesome sweet things out of local products. There were some wonderful submissions this month!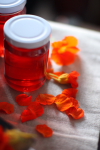 Cathy from Aficionado submitted this lovely nasturtium petal syrup. Nasturtiums are a pretty flowering plant that is also often a weed… and Cathy wanted to be economically and environmentally friendly and use it to make something delicious! I love it.

Michelle of Big Black Dog made these lovely Biscuit de Savoie. It's a jelly roll with her own home canned nectarine raspberry jam, and also includes Drambuie and Cointreau. Yum!

Sarah of What Smells So Good? submitted "Not A-Nutter" Carrot Cake, with carrots from her own backyard, strawberries from a farm local to her, maple syrup from a sugar bush 15 minutes from her house and Canadian canola oil. Now that's local!

Anna from Baked By Anna submitted this delicious looking Lemon Chiffon Cake with Lemon Curd Cream. She says she's in Oxnard, Southern California, where lemons are a staple crop and available year-round. She even has her own lemon tree! She thought a Iight, airy chiffon was a great way to end a meal in these dog days of summer, and I'd have to agree.

Eliza from Notes from my Food Diary baked up this Black-Bottom Peach-Almond tart. She just had to make a peach tart for the summer, and the peaches are, of course, local! I love the peach and almond combo.




Dilek from à  la Dilek submitted two tasty baked treats: Caramel Panna Cotta Törtchen and White Chocolate & Raspberry Cheesecake. The picture here is of the Cheesecake, but do visit her blog for more photos! The raspberries are local to her – yellow ones, no less!

Kitty from Fahrenheit 350° submits this Pretty Pear Tarte. She says her mother-in-law has a gorgeous pear tree growing in her garden, so she used those pears for her tarte. Yum!

And of course, I made Vegan Strawberry Ice Cream with local strawberries I picked up from the farmer's market a 5 minute walk from my house.


Thanks so much to everyone who participated! All your baking has made me really hungry for something sweet. And a special thanks to Jennifer, the Domestic Goddess, who created the whole Sugar High Friday concept back in 2004.
Next month's host is Rivka of Not Derby Pie, who has chosen the theme, "Toasted". Good choice for the colder months ahead! I can imagine lots of toasted nuts are going to get used this month.
Have a fantastic weekend, everyone!