A tale of two cupcakes
I've always been a fan of cupcakes.  Cute, single serving treats of delicious cake and icing, what's not to love?  I've never really understood why some don't like them.  I understand not liking cake at all, or preferring cake to cupcakes.  I also understand being sick of the cupcake trend, with bakeries popping up all over the place that only really do cupcakes.  But hating cupcakes themselves?  Why?
Recently I made two pretty different cupcakes I wanted to share with you all.
I've been doing a bit more vegan baking lately.  I really enjoy the recipes, and usually discover a new ingredient or two.  But also, I have a friend who is allergic to eggs, and so vegan recipes are the perfect solution for baking when he'll be one of the people eating the final product.  It just so happens his girlfriend recently had a birthday, and so I needed another egg-free recipe.  She said she really likes spice cake, like gingerbread or that sort of thing, so I googled around a bit until I found this awesome recipe for chai latte cupcakes. They honestly do taste just like a chai latte, and they even sort of look like one if you ice them and sprinkle some cinnamon on top!
The cake itself is 100% vegan, but for the icing I went with standard buttercream. To keep things vegan, you could easily top them as recommended by the original recipe (with spices and sugar), or, you could make vegan buttercream.
Chai Latte Cupcakes
Recipe originally from Post Punk Kitchen and also appears in the book Vegan Cupcakes Take Over The World. Lightly modified by me,  so the cake base is still vegan, but my icing is not.
Ingredients
1 cup soy or rice milk
4 black teabags or 2 tablespoons loose black tea ** I used chai tea instead
1/4 cup canola oil
1/2 cup plain or vanilla soy yogurt
3/4 cup granulated sugar
1 teaspoon vanilla extract
1-1/3 cups all-purpose flour
1/4 teaspoon baking soda
1/2 teaspoon baking powder
1/2 teaspoon salt
2 teaspoons ground cinnamon
1 teaspoon ground cardamom
1/2 teaspoon ground ginger
1/4 teaspoon ground cloves
pinch of ground white or black pepper
Buttercream Icing
6 tablespoons butter, softened
3 tablespoons milk or soymilk
1 teaspoon vanilla
3 cups confectioners' sugar
2 teaspoons cinnamon, 1 teaspoon nutmeg, and 1 tablespoon sugar, for the tops
Directions
Preheat oven to 375F.  In a small saucepan heat soymilk until almost boiling, then add the tea bags, cover the pan, and remove from the heat.  Let sit for 10 minutes, then squeeze the teabags to release as much tea as possible before removing the bags from the soymilk.
In a large bowl whisk together oil, yogurt, sugar, vanilla and tea mixture until lumps are worked out. Sift flour, baking powder, baking soda, salt, cinnamon, cardamom, ginger, cloves, and pepper into wet ingredients. Mix until large lumps disappear; some small lumps are okay. Pour batter into lined cupcake tins and bake 20 to 22 minutes until a sharp knife inserted comes out clean.  Allow to cool completely.
For icing: Beat together butter, milk and vanilla until smooth.  Add sugar a cup at a time until you get the consistency you want.  If icing seems to runny, at more sugar, if it seems too thick, add a bit more milk.  Spread or pipe onto cooled cupcakes.
Mix together the cinnamon, nutmeg and sugar, then sprinkle a bit onto the top of each cupcake.
Yum!
For my second trick… remember the giant cupcake pan we posted about last year?  Well, Rich found me one at a nearby Winners a few weeks ago, and I knew I'd have to put the pan to good use.  So now I present to you a giant cupcake, covered in buttercream and topped with smarties (the Canadian chocolate version, not the American candy version) as large sprinkles.
I know my decorating skills could use a bit of work, but since this was only about the 5th time in my life that I'd used a piping bag, I hope you'll forgive me.  I hope to have more projects to practice my piping on soon.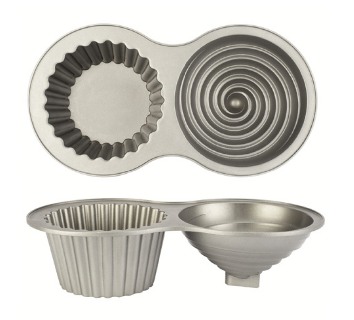 For the cake base, I decided to go with an old Daring Bakers challenge, Dorie's Perfect Party Cake.  I made 1.5 times the recipe in order to accommodate the large cupcake pan, which needs more cake batter than the typical recipe provides.  The cake turned out well, save for a few snags that are due to how the pan is designed. The bottom half of the cupcake cooks more slowly than the top half, because it is thicker.  However, as you can see from the picture, the two halves are contained within a single pan, so you can't just remove one half of the cupcake when it is done. The solution I came up with was to turn my oven down to 325 degrees and turn the pan so that the bottom half was in the hottest part of my oven. Even then, the top of the cupcake came out a bit dry, while the bottom was just barely cooked enough. Next time I think I'll cover the top with some aluminum foil once it's nearly done, to help keep it from over-baking.
Another problem I ran into was the fact that the cake rose exactly as you'd expect: it domed up at the top, which meant that in order to join the two halves of the cupcake, I'd have to slice off some cake to make it flat again.  This was pretty obvious, but it wasn't included in the instructions of the cupcake pan.  Even so, I didn't mind doing it, and it gave me some extra cake to nibble on while I was decorating.  Win-win situation, I say.
Once baked and cooled, it was really fun to decorate!  I made bright blue buttercream for the top and chocolate buttercream for the base, and pipped it on following the pattern of the pan.  I used a bit of the blue to join the two cake halves, and put a row of smarties around the middle to help hide the imperfections.  About an hour or so of piping later, and I had this!
If you'd like to make this yourself, you can probably find the Wilton Cupcake pan at your local department store or baking supplies shop.  I've linked you to Dorie's cake recipe above, which make an awesome, lightly lemony cake.  Just remember to make 1.5 times the recipe, and watch the pan so your cupcake top doesn't burn.
I would like to humbly submit both of these to Sugar High Friday, hosted this month by the lovely Foodbeam. The event of course originated with Jennifer, the Domestic Goddess many, many baked goods ago.